Slutty Sister Cum Dripper Demi Sutra Mick Blue
137
Slutty Sister Cum Dripper Demi Sutra Mick Blue
Mick gets turned on when his wife lays out some lingerie but is frustrated when she tells him it's for later, after a visit from her slutty sister Demi. When Demi arrives, she spots Mick's boner and gives it a sneaky grab before they all catch up in the living room. When Mick's wife leaves to get refreshments, Demi pulls out her big tits and Mick's cock, sucking it until they almost get busted! Mick has to finish himself off in the bathroom into some tissues, while Demi spies on him. When he's gone, she pervily drips his cum on her face before seeing the laid-out stockings. Demi puts them on and hides under the comforter, pulling a switcheroo on a still horny Mick, who fucks her tight pussy before getting busted by his wife! They keep fucking until Mick facials Demi, afterwards she secures him to the bed with the stockings and blows him a kiss, leaving Mick all tied up!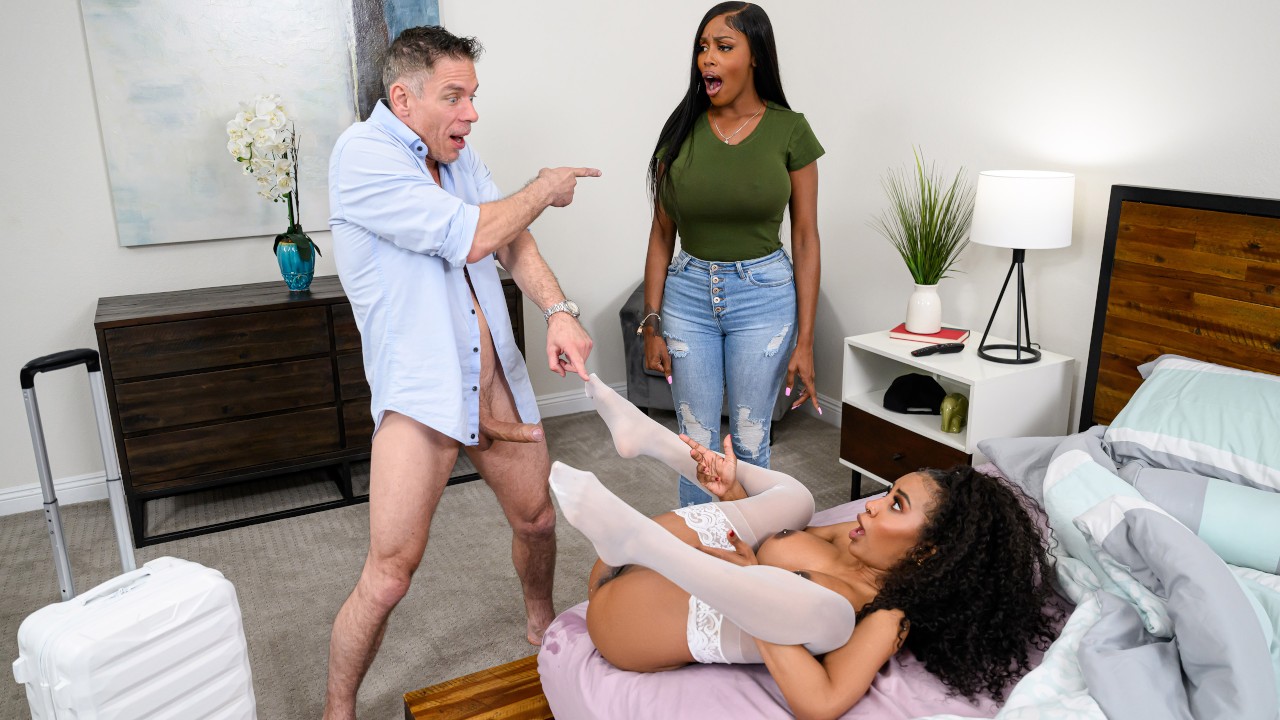 Calling herself "the hippy whore," petite spinner Demi Sutra's heavenly booty will re-align your cock chakras like you've never felt before! A regular practitioner of yoga, Demi's flexibility gives her the ability to give blowjobs while impressively holding a back bridge. All the yoga has given her excellent control of her breathing, which is ideal, because she loves nothing more than shoving a hard cock down her throat! Bodacious, vibrant, and spectacularly lovely, Demi Sutra's sensational sexuality is truly a blessing to behold.
Hailing from the same town as Schwarzenegger, Mick Blue is the other Austrian Terminator: the Pussy Terminator! With a nine inch dick that dangles to his knees and bod sculpted by the gods, it's no surprise that Mick won multiple AVN awards for "Best Male Performer of the Year" as well as an induction into the AVN Hall of Fame in 2017. A blue-eyed cocksmith with abs of steel, Mick has no problem dicking three to four chicks in a row, handing out orgasms like a human sex toy. Making his porno debut during a Parisian orgy, Mick out-fucked his competition and was eventually crowned "Last Cock Standing." With 5 eager sluts passing his meat-bone around like a microphone in a karaoke bar, Mick knew at once that he had found his destiny! First dominating the European smut scene, Mick eventually brought his cock-wielding skills over to America and achieved superstar status. Now having starred in literally thousands of scenes and directed a few hundred to boot, it goes without saying: Mick Blue has one of the most recognizable blue-veiners in porn today.