One Night Done Airtight Cherie Deville Mick Blue Isiah Maxwell Alex Mack
83
One Night Done Airtight Cherie Deville Mick Blue Isiah Maxwell Alex Mack
After a work trade show, Cherie Deville brings another convention-goer (Isaiah Maxwell) back to her hotel room for a thorough post-work fuck. Cherie LOVES Isaish cock's in her pussy, but feels like her other holes deserve the same treatment — she wants it air tight! Isaiah calls in his coworker, Mick Blue, for a spirited round of D.P. Cherie loves trading off their cocks, and she feels incredible getting her ass and pussy stuffed out. Still, Cherie feels like something's missing and enlists the help of a random convention-goer in the hallway (Alex Mack) to fulfill her airtight goal. With one cock in each hole, Cherie has what she needs to make the most of her work trip and satisfy three convention-goers' cocks. Work smarter, not harder!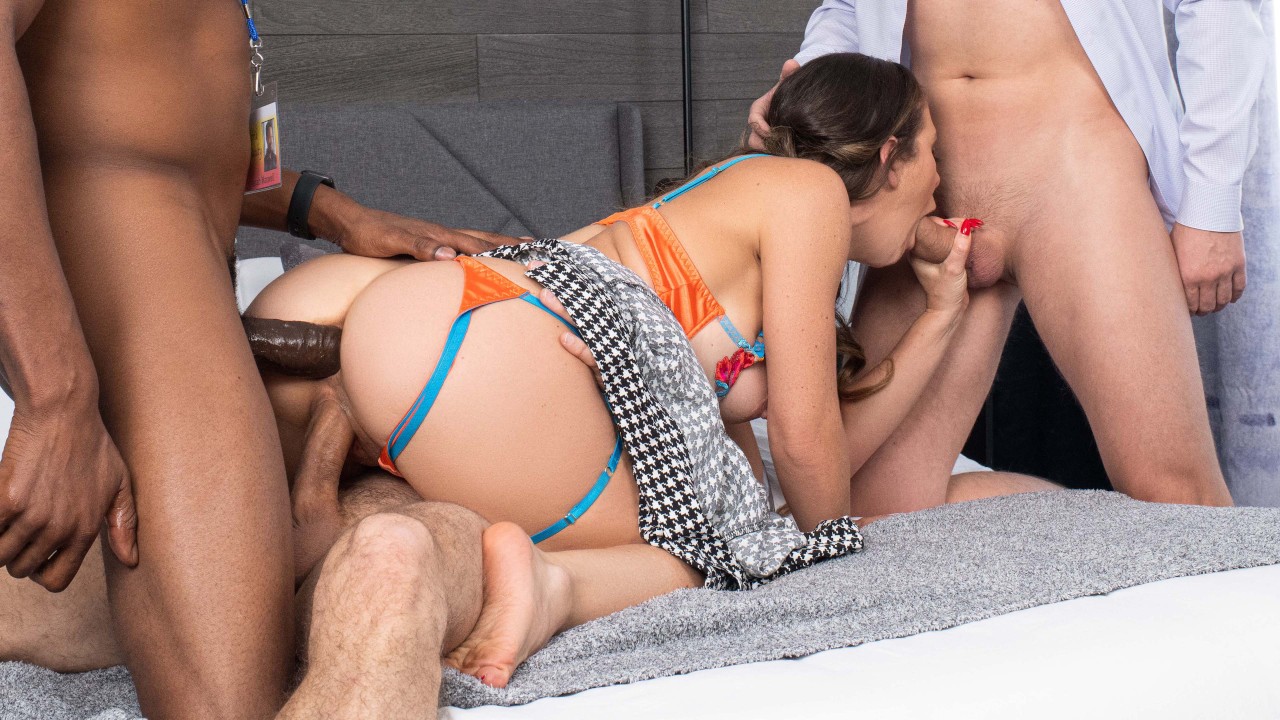 Cherie Deville is a busty, blonde beauty from North Carolina who loves to show off her amazing body and make men drool. Call her a tease if you like, but if you had long, slender legs, big tits, and an ass so firm you could bounce quarters off it, you probably would too! Cherie made her adult industry debut back in 2001, mostly working as a model and starring in girl-on-girl scenes. Soon enough, Cherie took her talents to hardcore scenes and got to taste the top dick of the industry! A former cheerleader, lifeguard, and ballerina, this buxom babe is like a walking fantasy come to life. Make sure to check out Cherie Deville in the scenes below!
Hailing from the same town as Schwarzenegger, Mick Blue is the other Austrian Terminator: the Pussy Terminator! With a nine inch dick that dangles to his knees and bod sculpted by the gods, it's no surprise that Mick won multiple AVN awards for "Best Male Performer of the Year" as well as an induction into the AVN Hall of Fame in 2017. A blue-eyed cocksmith with abs of steel, Mick has no problem dicking three to four chicks in a row, handing out orgasms like a human sex toy. Making his porno debut during a Parisian orgy, Mick out-fucked his competition and was eventually crowned "Last Cock Standing." With 5 eager sluts passing his meat-bone around like a microphone in a karaoke bar, Mick knew at once that he had found his destiny! First dominating the European smut scene, Mick eventually brought his cock-wielding skills over to America and achieved superstar status. Now having starred in literally thousands of scenes and directed a few hundred to boot, it goes without saying: Mick Blue has one of the most recognizable blue-veiners in porn today.
One look at Isiah Maxwell and you'll probably be able to guess why ladies line up to get a piece of him. Between his six pack abs, broad shoulders, and big cock, he's got everything it takes to make any woman, from teen slut to MILF seductress, start to crave some Isiah. But his chiseled physique and big swingin' dick aren't the only keys to Isiah's success! A strongly motivated hard worker, Isiah worked his way to the top on both sides of the camera, working to help his fellow porn stars as a talent agent when he's not busy busting nuts all over town. Also known for his friendly and kind demeanor, Isiah's Twitter bio really says it all: "Proving nice guys can finish first, one girl at a time."
Unlike most pornstars, Alex Mack won't say that his best feature is his big cock or his bright blue eyes, although both of them have been known to make the ladies melt into a puddle. Instead, he wants the world to know that his best attribute is his brain. How else would this hunk have managed to relocate from Siberia to SoCal, teach himself English, and then earn a Computer Science degree, on top of his Master's in Economics? It was through his IT work that Mr. Mack first got involved in porn, helping out with live streams behind the camera, and pretty soon this tall, clean-cut blond was taking part as well! Alex's big brain and his big cock together are what earned him his AVN Award for Best Male Newcomer 2021, and he's got great things in store, so be sure to keep an eye on his progress right here.